Mass protests about civil rights and dissatisfaction with our current racialized system of mass incarceration (for a great resource see Alexander's The New Jim Crow) are arising all over the country.  Hamilton College is no exception. See here how a student sponsored protest unfolded through a series of phases.
Stage 1: The Preparation
Students confided on Tuesday they were planning a walk-out of classes on Thursday at 2:00. But they deliberately did not inform most faculty.
Stage 2: The Die-In
Students and some faculty stage a die-in on the school's crosswalk in the center of campus.
Hamilton students are not the first to do so. Students at my alma matter, Colorado College, staged a protest last week on the crosswalk which cuts through the center of their campus.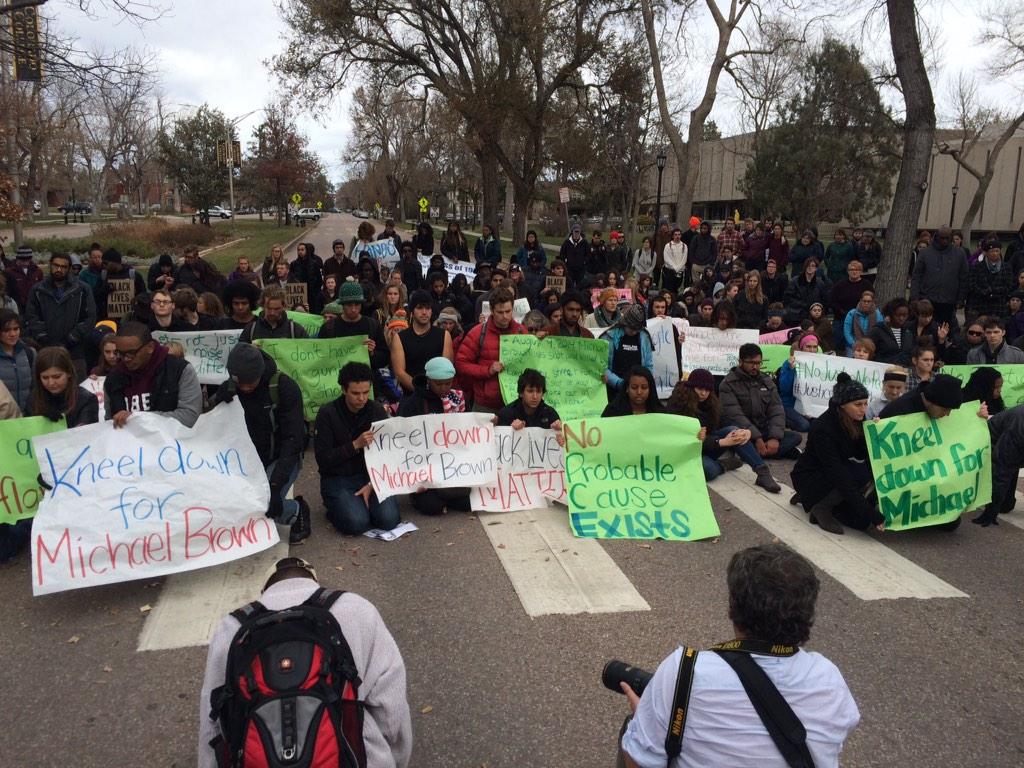 Stage 3: Standing in Peaceful Protest
Protesters stand in solidarity and chant in unison.
Stage 4: The Police Arrive
Campus security, faculty and administrators negotiate with the police. A professor warns the students that they may be arrested if they stay on the road. Some students seem frightened and uncertain about what to do. This is uncharted territory for them. I hear a student say, "I didn't come here to get arrested." Some students move off the crosswalk but many others stay. Standing in the back with a few faculty we decide we will stick it out. A colleague calls a few other faculty to come. She says how protesters have shut down the Lincoln Tunnel so we should be able to stand on the crosswalk in the center of campus.
Stage 5: Then the protesters adapt. In speaking with police, campus security learn that students are breaking a law if they are obstructing the road. If they are walking back and forth across the crosswalk, they are not committing a crime.  So campus security advised the students to start walking.  And so we walked and continued chanting.
Stage 6: Someone announces that the town police have agreed not to arrest protesters due to the number of students and faculty present. A cheer arises and everyone is elated. There is a sense that the students took a stand and won. At first students seem not to know what to do next. A few voices begin chanting loudly again.  Students organize a series of speakers in between chants.
A group of three students sing a song to the crowd. It's getting colder and now snowing.  Unbeknownst to most of the students, state police have arrived and negotiate with campus representatives.  Eventually they too decide not to arrest students and agree to divert traffic around campus.
Stage 7: Finally the students end the protest with a march throughout campus. They stage more die-ins in various large buildings on campus, such as the Kirner-Johnson building, shown below.
It is clear that tactics used nationally and conveyed through social media and the national media are being replicated everywhere, including on our campuses. But it was fun to see how the students adapted and began walking back and forth across the crosswalk to avoid arrest.
For many of Hamilton students involved, this was the first time they engaged in collective action in the face of an authority like the police and won. It was an exhilarating experience for all involved. I hope it inspires them to engage in further civic and political engagement in the future.
I encourage you all to share what is going on in your neck of the woods.